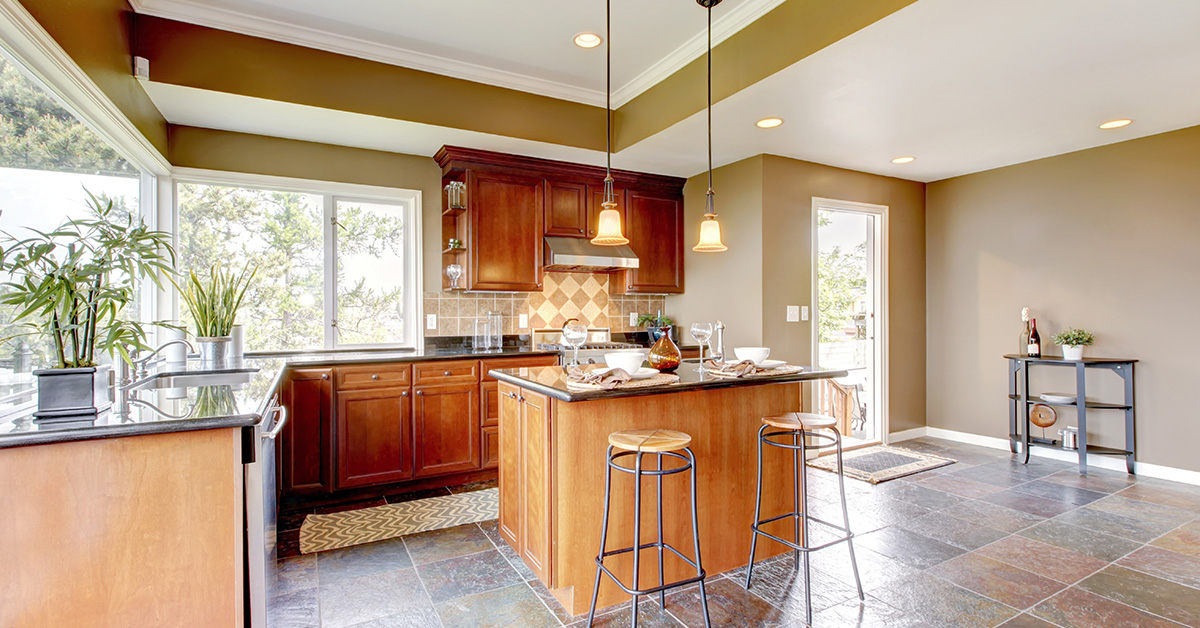 One of the best parts of our job is seeing the look on our customers' faces when we complete a service. Time and time again, we hear the words, "Wow, we never knew our floors could look this great again!"
Sometimes, there's an "incident" that leads to a call — a major stain, crack or chip due to an accident. But more often than not, we come to a home because a floor has deteriorated gradually over time. The grout becomes dingier and dingier, light scratches and scuffs accumulate, and wax or improper cleaning products build up.
A once-pristine floor turns dull and lifeless over the years. The homeowner has probably scrubbed and scrubbed using a number of off-the-shelf cleaners and polishers. They may even have a professional carpet cleaner give it a go with a steam cleaning. Each time, the floor looks a little better, but inevitably, we often hear, the minimal improvements don't last — and they're back on their hands and knees again trying to clean an uncleanable surface.
By the time we arrive on the scene, the homeowner is often pretty desperate, and may even be skeptical that there's even a solution to their problem. But the MARBLELIFE® pros are experts at cleaning and restoring even the most neglected floors. They begin with an assessment designed to determine the root cause that led to the less-than-perfect appearance. The problems are then addressed in a manner designed to restore the surface to its former glory, and our customers are educated on how to best clean and manage the surface. Most people do not realize that 20% of all restoration work is required because an inappropriate "cleaner" has been deployed that created damage or buildup over time. MARBLELIFE® focuses on hard surface restoration and care, using science and research.
With our proprietary cleaners and the right techniques, we remove years of buildup and staining. We can repolish worn and scuffed stone surfaces. And our ColorSEAL treatment can bring even the dirtiest grout back to bright white — or whatever color you choose. When we're done, we leave a cleanable, highly stain-resistant surface behind. It truly is better than new.
Our customers often can't believe their eyes when they see how our skilled technicians make their tired and troubled floors look new again. Before we leave, we educate them about exactly what they should — and shouldn't — do to keep their revitalized floors looking great.
No more endless scrubbing and trips to the store to try yet another stone or grout cleaner. And they're thrilled when they learn for themselves how much easier it is to maintain their beautiful floor.
If this sounds too good to be true, read about Haeley's experience when MARBLELIFE® cleaned and polished the Carrara marble and agglomerate stone floors in her home in San Antonio, Texas. The stone runs through her master bedroom and bath, her kitchen and her living room. Check out Haeley's story, along with her amazing before-and-after pictures and her sparkling clean grout.
As proud as we are of our work on Haeley's floors, her story is typical of the amazing results MARBLELIFE® produces for our clients each and every day — and how pleased our customers are with their results.
And if you want your floors to look as terrific as Haeley's, give your local MARBLELIFE® pro a call today. We'll be happy to come out for a free consultation. Or if you'd prefer, we can provide an estimate based on photos and information you provide to us. We continue to perform in-home services during the pandemic with extra safety protocols in place — read all about them here.
We look forward to making you the next MARBLELIFE success story!