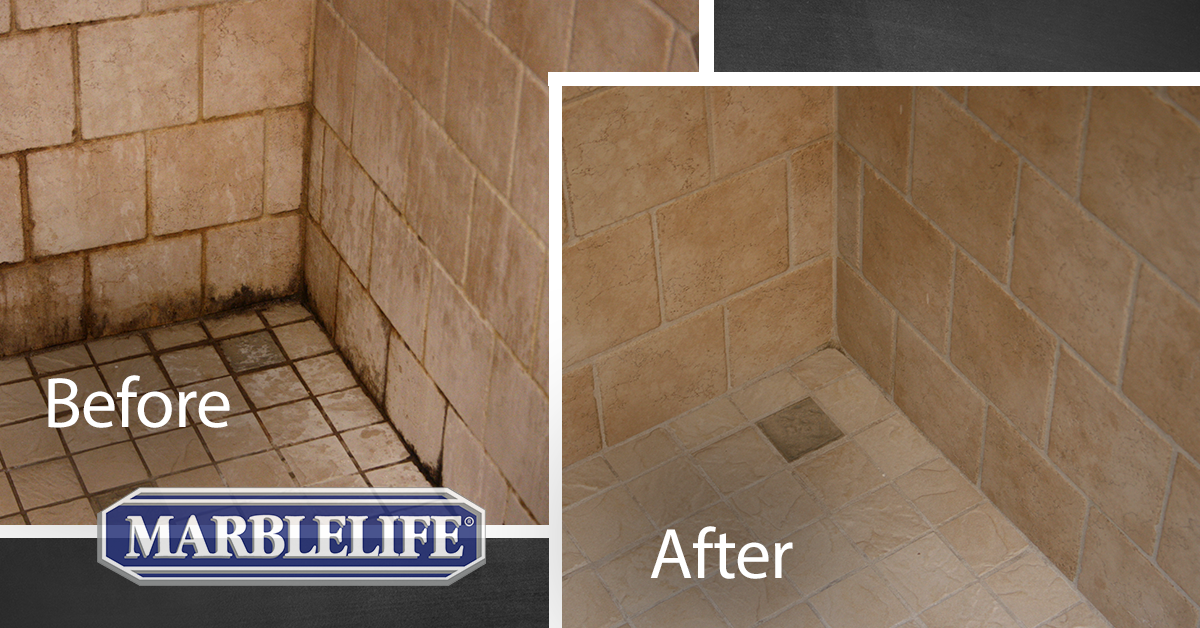 The biggest obstacle to eliminating stained grout is the misconception that a stain is dirt, versus linking a stain to damage. Sure it is dirt that is sitting in the open grout pore that created this stained appearance, but it is the fact that the pore was open in the first place that allowed this travesty to occur. This surface can be cleaned till the cows come home without restoring a clean-appearance OR a cleanable floor. Please note, those two things are not the same. Even if we succeeded in getting stained grout clean – it would just re-stain – as the dirt in our mop water re-penetrated the grout pore, re-collecting and re-staining. Ah-the dream account for a powerwash company addressing the symptom without solving the problem.
What you really want is a cleanable surface. MARBLELIFE can deliver that. With an understanding, as to how this occurs, how to address it and how to make sure that pore is properly sealed to prevent future staining, in a manner that can return restore a consistent uniform color. Note, we said color, There is no limitation to what color. Keep it the same and secure a uniform new clean look. OR change the color to reaccent the room with a new color. Shift from light to dark or dark to light. You can even match the color of your shower towels if you desire. A cleanable uniform color of your choice, non-staining grout line can be acquired that is immediately cleanable and will no longer stain.
In fact, MARBLELIFE Colorseal can prove to be the fastest and easiest way to give a tiled space a new accent look.
Once you have successfully changed the color of your grout, maintenance will be important to keep it in good shape. Avoid harsh cleaners and instead use stone-safe solutions like MARBLELIFE Tile & Grout Cleaner.
For any other grout or tile-related questions, contact your local MARBLELIFE office and a knowledgeable stone craftsmen will be happy to assist you.
Call MARBLELIFE at (888) 524-3372 or visit us online to secure your FREE ESTIMATE at www.MARBLELIFE.com or to www.MARBLELIFEPRODUCTS.com to secure the care products appropriate to your surface, and your desire for an easy effective cleaning solution.
MARBLELIFE® MaxOut Tile & Grout Deep Cleaner 32oz
MaxOut Deep Grout Cleaner is a specifically designed formulation that emulsifies grease and dirt from your grout. It will not harm ceramic, porcelain, Saltillo, Terracotta or stone tile.