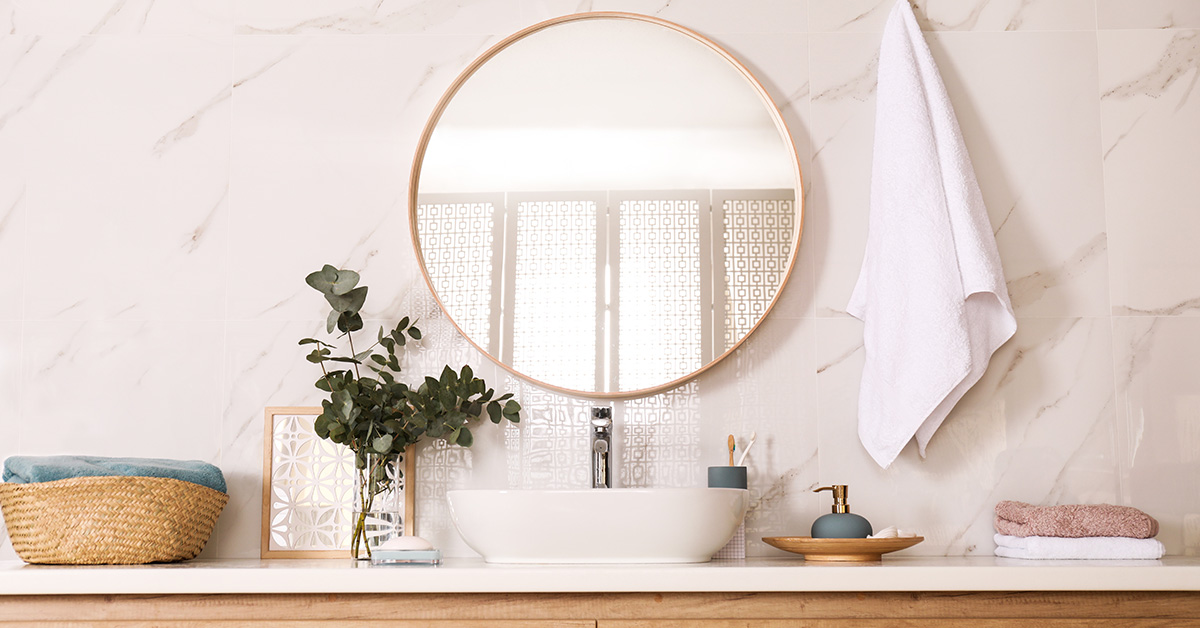 Those of us who've always said, "I'd love to have more time to tackle decorating and home-improvement projects" are starting to think we should be careful what we wish for. But with so many of us sheltering in place, one thing is certain — our home environments are exerting a greater emotional and psychological impact on all of us.
We thought it might be helpful during this unusual time to offer some simple and low-cost tips to beautify your bath and turn your shelter into a sanctuary while we're waiting for the storm to pass.
1. Corral countertop clutter. Nothing detracts from a beautiful bathroom design more than if your vanities look like the drug store exploded all over them. This doesn't mean you have to put everything behind doors or in drawers. For things you use every day, simple trays and containers can keep these toiletries organized and easy to access while still looking neat and tidy. You can do this by repurposing items you already have on hand, such as baskets, boxes and small trays. If possible, try to only leave out items with attractive packaging.
2. Create some ambiance. Nothing inspires a more relaxing mood than the gentle flickering of candlelight. Whether they're tall pillars on a mirrored tray or small votives on your vanities, candles can make your bath feel like a spa in no time. Just be sure to take appropriate safety precautions, such as never leaving a candle burning unattended or overnight (especially with kids and pets around) and always placing them on a stable surface well away from anything that could ignite. Today's LED candles can give you all the beauty of traditional candles without the hazards of a live flame. Many newer ones activate automatically at night, and some even come with a convenient remote control. Add a small bouquet of fresh flowers or greens from the yard to bring the outside in and consider the mood set.
3. Tackle the tub. Turn your bathtub into a personal oasis and respite from daily stress. This is a great spot to locate those convenient flameless candles as well as bubble mixes, bath oils, fluffy towels and other indulgences you can enjoy during your soak. A small table, stool, or shelf can keep things organized and close at hand for bath time. One thing you want to keep more than an arm's distance away, however, is your phone or other electronics — this is your time to unplug and de-stress.
4. Spiffy up tile surfaces. It's hard to feel relaxed when your eyes keep going to that soap scum or dirty grout on your floors or shower walls. But no worries — with the right products, your surfaces can become sparkling clean once again. Take advantage of this time to have your bathroom tile cleaned and sanitized by MARBLELIFE. We have new safety protocols in place that you can read about here on our home page. After we disinfect your tile surfaces, we can seal your grout so that it can stay cleaner and more stain resistant longer. Or, if you're in a DIY mood, you can get terrific results from any number of MARBLELIFE products that you can find on our website. Try our MARBLELIFE Mold & Mildew Stain Remover Kit or our MaxOut Tile and Grout Deep Cleaner for stubborn stained grout.
5. Show your artistic side. Personalize your bath and create a scenic view with art. While you don't want to expose anything especially valuable to humid conditions in the bath, you can use inexpensive canvases and other items to add personality. And don't worry: If you don't want nail holes in your wall, you can use removable adhesive hooks for many items — just be sure to check the weight limits for the specific product you use. Meanwhile, many online services can turn your original photography into a one-of-a-kind stretched canvas. So why not remember the beautiful sunset from your beach vacation last year every time you brush your teeth?
We hope these tips help make your bathroom a sanctuary while you shelter in place. We here at MARBLELIFE are thinking about you during this difficult time and hope you and your family are staying safe. We're all in this together, and together Americans have shown that we can overcome just about anything.