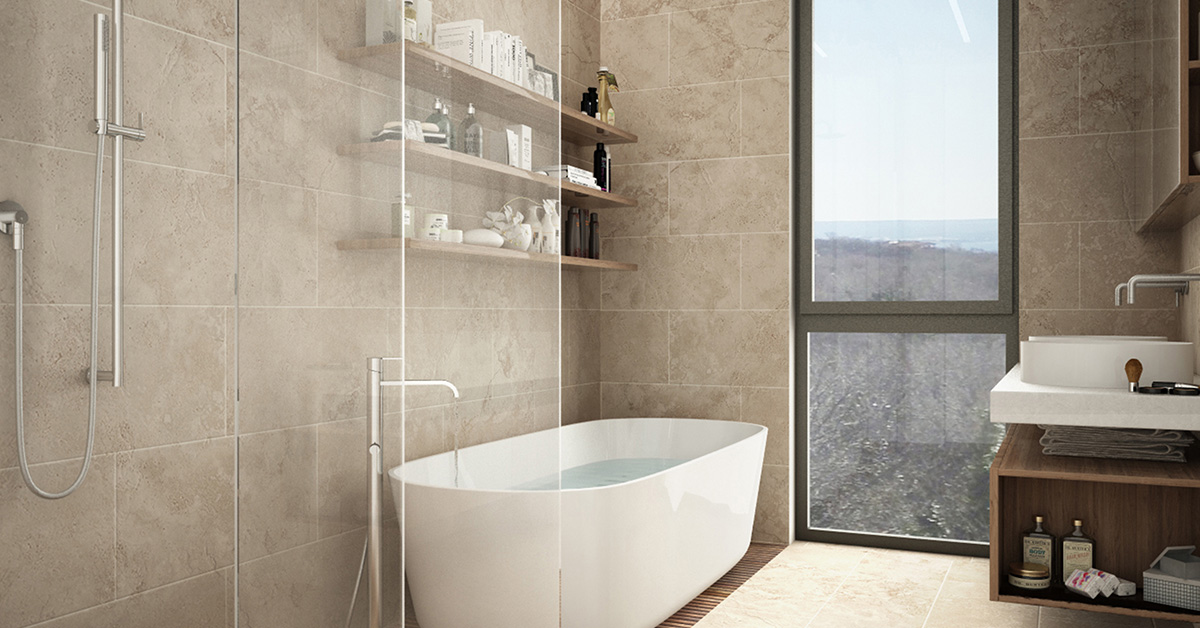 Travertine has a classic style that can work in coastal, traditional and contemporary homes alike. But you should do your homework when considering an investment in travertine. Some, but not all, installations will require a more labor-intensive mud set, which can drive up costs considerably. Then there's the choice of a filled or unfilled (also called open) product. Travertine is naturally quite porous and has visible holes. Filling them levels out the surface for a more even appearance and easier maintenance. You can get travertine prefilled, which is a much cheaper proposition than filling unfilled or open travertine after installation.

Selecting a satin finish rather than a glossier option can also help with maintenance because it hides wear and scratches more readily. The satin hue also provides very warm subtle lighting. Here are five things you can do to protect and clean your travertine surfaces:

1. The Art of the Seal Travertine is less dense and more porous than granite. Because of this, it's more susceptible to staining, if not sealed. The first step in travertine care is to seal your surface with a proper sealer like MARBLELIFE® Stone Sealer . By sealing, you're creating a protective barrier to prevent staining materials from entering travertine's natural pores — and it's far easier to clean up a substance that's sitting ON your stone than that one that's seeped INTO your stone.

But don't make the mistake of thinking that sealing is a one-and-done process. Even an excellent seal eventually can become compromised. In most cases, it will result from acidic spills. Cutting a tomato, resting a lime, dribbling a cola or wiping something up with vinegar will set the stage for acid damage that can dissolve your seal. For this reason, you need to set a regular schedule to re-apply your sealer. Often, a quick wipe-on/wipe-off application is all you need to replenish your protection after completing your first seal. We recommend doing this the same time you change the batteries in your smoke detectors, and it takes about the same amount of time.

2. Your First Line of Defense Invest in high-quality doormats and carpet runners. These can help minimize the amount of dirt and debris brought in by foot traffic. Generally, it's not your shoes that do the damage, but rather the sand or dust particles that are ground into the floor. Most people consider a doormat as a merely decorative accent, but they serve a much more important purpose. A properly selected mat can save thousands in restoration costs years down the road. A high-quality mat allows loose dirt to fall into the material so that the dirt is no longer on top and can no longer be tracked in. It will also allow moisture to pass through to help prevent slipping.

These mats are one of the most overlooked investments when it comes to protecting floors. Learn more by visiting the products section of the MARBLELIFE website to understand how this one simple change can potentially reduce the cost of restoration by thousands of dollars. For countertops, always use coasters and trivets, and for cosmetics and toiletries, use decorative trays to help protect the stone from any harmful chemicals and substances.

3. Routine Maintenance: Dust and Damp Mop Use a clean, dry, and non-treated dust mop along with your usual cleaning to remove surface dust and dirt from your travertine on a regular basis. While many people think that spills are the most damaging to stone floors, in reality, it's the abrasion from footwear grinding in things like sand, dust, and hair that slowly scrapes away your gloss finish. It's often such a gradual process that you don't notice it until the damage is done. A single grain of sand concentrates your entire weight at that one point, versus allowing it to be spread across the area of your shoe's sole. The net result is a scratch in stone.

You can also use a damp mop (not wet, as a light dampness allows the dust and dirt to stick to the mop better) with clean water and a stone-safe cleaner like MARBLELIFE® Marble & Travertine InterCare. Avoid vacuuming stone floors as this can chip or dent the stone edge, or dredge a caught piece of sand across the surface to create a scratch. With each vibration working as an abrasion, the vibrating brushes can often, in fact, wear the surface of your floor faster than the dirt was going to.

4. Suffering from Stubborn Stains? If you do notice a stain on your travertine and your stone-safe cleaner doesn't help, try using a poultice. Form a paste by combining the cleaner with baking powder. Apply over the stain and cover with clear plastic wrap for at least 24 hours. Remove the poultice with warm water and buff with a cotton cloth or chamois.

This simple application first transfers the cleaner into the dry stone, then draws out the moisture along with the stain—we hope. If this fails, get a copy of MARBLELIFE's Stain Removal Guide to research your stain based on the color or even the chemical composition of what caused it. Don't attempt to clean travertine without first researching an appropriate approach as you might make things worse should the cleaner and stain interact poorly with each other. When in doubt, give MARBLELIFE a call. We are more than happy to provide you FREE guidance on how to care for your stone, or what to try next based on the color, or ideally what caused the stain in the first place.

5. Call in the Pros If you have to deal with a stubborn travertine stain, are confronted with even worse damage, or just want some guidance on how to best protect your investment, call your local MARBLELIFE professional. Never attempt to repair your damaged stone on your own without professional guidance as you may do more harm than good. We've found that 20% of stone restoration work is the result of application of an inappropriate cleaner.

If you'd like more tips on how to clean travertine, marble, or limestone, contact your local MARBLELIFE office, and a knowledgeable stone craftsman will be happy to assist you.