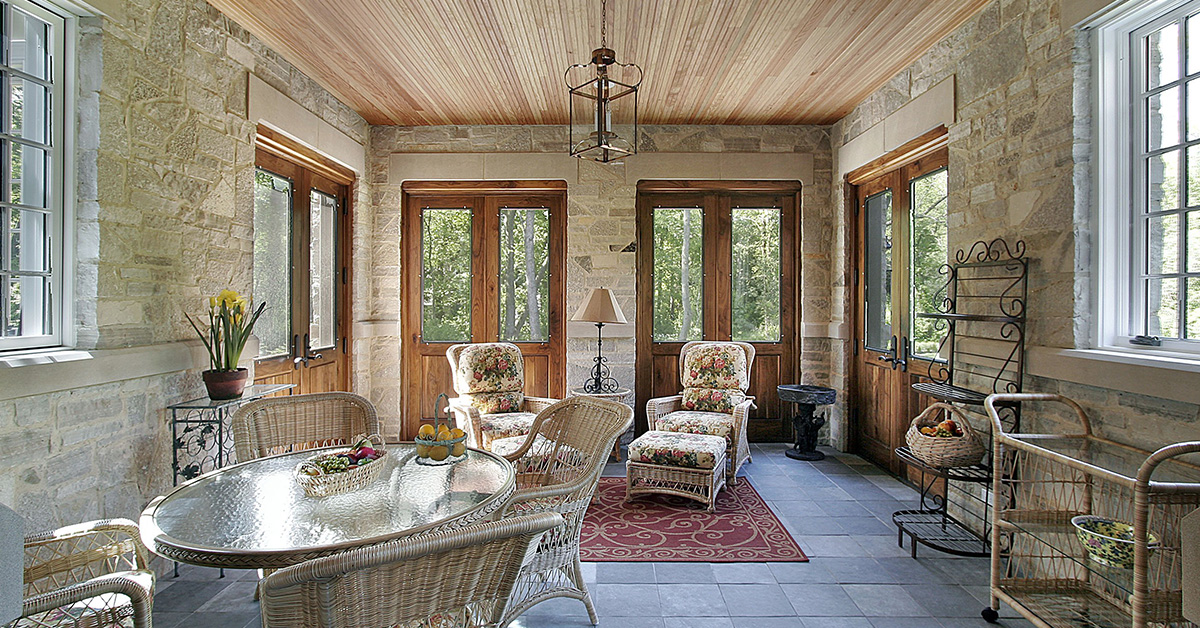 The return of spring beckons us outside once again, but the weather can still be hit or miss in many parts of the country. That makes indoor-outdoor spaces, like the enclosed porch above, perfect for this time of year. A breath of fresh air through the windows in a natural setting can bring us back to life as winter releases its icy grip.
The secret to indoor-outdoor decorating is the incorporation of warm, organic elements, natural textures and a laid-back attitude. This beautiful porch features a gorgeous slate tile floor. Slate is one of those materials that takes on the personality of its surroundings. It can look rustic or refined depending on what's around it. Slate's subtle variegated color and natural texture are a perfect backdrop for this relaxing, yet elegant, country porch.
Stone walls and a tongue-and-groove ceiling finish out the shell of this room. A bronze pendant fixture emulates the glow of candlelight. Since this type of space can be open to the elements, it's important to select your materials carefully. All-weather wicker, glass-top tables, and mold- and fade-resistant fabrics allow you to enjoy the patio with less worry and easier maintenance. Today's indoor-outdoor rugs and fabrics are sophisticated in style and soft to the touch — and increasingly difficult to discern from their indoor–only counterparts. There's no need to sacrifice comfort or design.
This is a great spot for entertaining, so provide ample room for dining and enough seating in case friends drop by. Double-duty pieces, like a pair of matching ottomans, are perfect for putting your feet up or offering an extra place for guests to perch in a pinch. And be sure to have enough accent tables for drinks and snacks. Here, a wicker cart is the perfect piece to house a bar or serve as a rolling hors d'oeuvres cart.
Don't clutter up your space with too many accessories. Simple pottery pieces and a smattering of plants or other living elements is all you really need to pull off this casual look.
MARBLELIFE® is an expert at caring, maintaining and restoring natural stone. We can safely clean and repair chips and cracks as well as seal surfaces to make them highly stain resistant. Whether your stone is on your floor, an accent wall, or around a fireplace, we know how to treat it.
Many people believe that stone surfaces are practically indestructible. But nothing is further from the truth. Marble is highly prone to staining, and cleft slate is susceptible to chipping. You can trust the pros at MARBLELIFE® to treat all the stone surfaces in your home with great care and expertise.
Celebrate the return of spring with a return to indoor-outdoor living. If your enclosed porch, patio or solarium is in need of a little post-winter freshening, give your local MARBLELIFE® a call. We can provide a free, in-home, no–obligation quote — or provide an estimate based on your photos. Our stone-care teams have extra safety protocols in place during the pandemic. Schedule your in-home cleaning or restoration today.