Greetings from MARBLELIFE
For all of us, the primary concern is weathering COVID-19.
Clearly, the first goal is to ensure the health and safety of one's family , team members, neighbors & clients. You are one of those to us.
We hope you and yours all remain healthy.
With that said, there IS a silver lining…
The knowledge and technology exist to create healthier building environments, making management of COVID-19 and its corona relatives (the common cold, and the flu), easier to manage and contain.
We have all had that experience of visiting a restaurant, having a GREAT meal, and then afterwards, visiting the "facilities", having our dinner party tell us "We are never coming back." We each have a list of venues we will not return to. That is your body's natural reaction to seeing stained grout and unclean surfaces.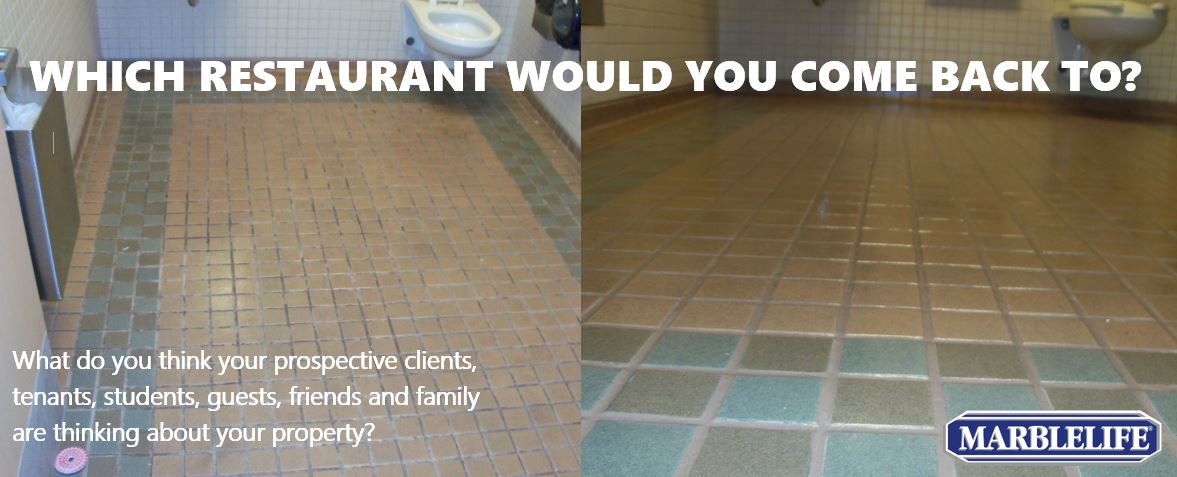 How about hospitals, hotels, cruise ships, grocery stores, gyms
or even home?
The good news is… that technology, products and knowledge exist to create healthier buildings that we are comfortable visiting with our families. MARBLELIFE can assist you in assessing your home or building's situation and delivering the services needed to effect an easier-to-maintain-and-disinfect surface that communicates your commitment to the health of your visitors, whether they are family, employees, tenants, patients or guests. We have restored hospitals, restaurants, retailers, homes and office buildings interested in conveying their commitment to providing a healthy environment.
Hospitals know that it doesn't matter how effective your disinfection products are if you cannot reach the bacteria or virus you are seeking to manage. Keep it on top of the floor, versus buried in a dirty grout pore. We have completed dozens of hospitals.
Gyms know that MARBLELIFE TileLok provides anti-mold growth performance to reduce incidence of athlete's foot and other spore-based issues.
Restaurants know their re-occurring business can be decimated by a filthy bathroom; this may be the best one-time investment you make, as it impacts your re-occurring business, reviews and referrals.
If your facility is presently empty… this is an ideal time to consider upgrading your stained grout surfaces, welcoming back your people with clear evidence of the improvements you have made in their absence.
If you are home… we are ready to assist you in your efforts whenever you are.
As a society we can expect a change in what we expect from our buildings. MARBLELIFE is ready to assist and deliver - as we do this every day.
This can be done in a matter of 8 hours, with no dust and no need for replacement, so you can quickly effect a meaningful change, whether seeking ease of disinfection and cleaning, anti-mold performance, anti-slip performance, or just an easy-to-clean, new healthy appearance.
MARBLELIFE has procedures in place to clean-and-disinfect project areas before our teams start and after they finish, so that our clients can be assured of a safer and cleaner surface upon our departure.
Our teams are coached on how to politely maintain social distance and how to work with clients to enhance their home and building health.
We all look forward to returning to some semblance of normalcy.
However we recognize that society has just raised the bar -- and we are here to assist you as we each do our part in this war on COVID-19 to not just persevere through the next few weeks, but creating healthier building environments beginning with your home or building, and those you visit. Help us make a difference and share MARBLELIFE with each building you see that could benefit from 8 hours of service from MARBLELIFE. Quick, effective and healthy.
To request your FREE-HEALTHY BUILDING ASSESSMENT
CALL US TODAY:
US – 844-368-7216
CANADA – 888-311-5109
Cayman – 345-945-7007
South Africa – 012-653-2505
United Arab Emirates (UAE) – 971-4-341-5658
Visit us at www.MARBLELIFE.com for more information about COVID-19 and MARBLELIFE's Healthy Building Solution.
Let's Build a Healthier Building Environment.
MARBLELIFE is a SCIENCE company focused on developing SOLUTIONS designed to ENHANCE the interactions between PEOPLE, their BUILDINGS and their BUSINESS.
Which means we do a lot of hard surface restorations – what we are known for – with our custom formulated care products.
Together we will win the COVID-19 battle and the broader war on coronavirus.
Stay healthy, Be healthy, Build healthy.