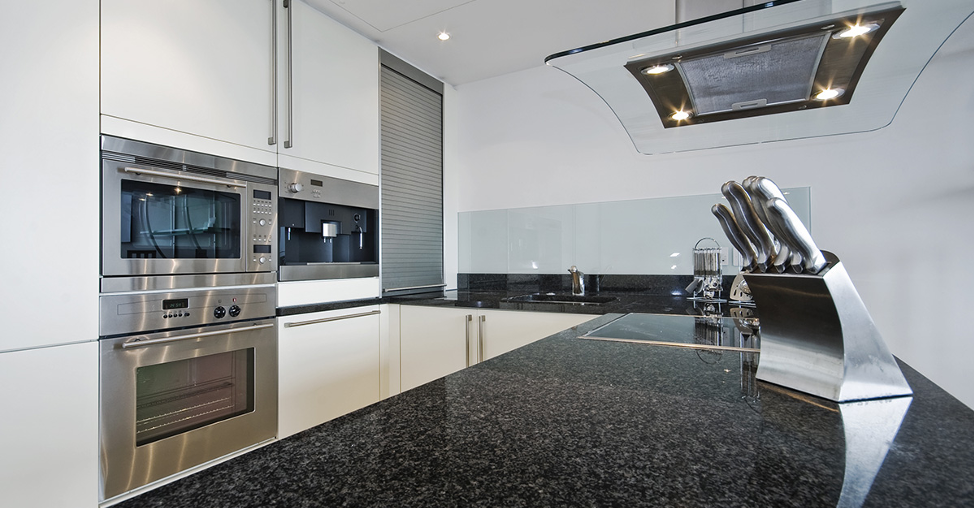 When you apply sealer to stone, tile, or grout, its surface is sealed with a product specifically designed to help protect it against staining and degradation. On kitchen counters and backsplashes, you want to prevent damage from things like red wine, cooking oils or acidic ingredients (lemon, vinegar, etc.). In bathrooms and common areas, the proper application of a good sealer offers greater resistance against tracked-in dirt, mold, spills, and pet accidents. And in outdoor applications, you're defending against oil and other household chemicals as well as naturally occurring elements such as the tannins in acorns.
Many people mistakenly believe that just because their counter or stone floor is "hard as a rock," that makes it invulnerable to staining. However, this is far from the truth as many types of stone surfaces actually have interconnecting capillary channels within them that allow substances to penetrate. These "pores" draw moisture into the material through a process called capillary action, and the resulting staining may become impossible to remove. This is why it's critical to seal your granite counter, marble backsplash, travertine floor, and many other types of stone surfaces.
A high-quality stone sealer can help prevent such staining. Sealing can even make some stone surfaces more resistant to damage from frost weathering, where the stone is damaged when water that has penetrated it expands upon freezing.
There are some instances when the application of stone sealer is less necessary, such as when stone has been resonated. Resonation is a treatment applied by manufacturers to safeguard slabs from damage during transport. During resonation, resins are drawn through the pores using the same capillary channels that make stone susceptible to staining. But in this case, the resin has been added to enhance the stone's flexibility and to reduce brittleness sufficiently to handle the trans-ocean shipping and wave action. Resonating does not guarantee the surface is sealed as pores that do not traverse the stone may not be filled. As a result, a resonated stone has fewer open pores, but those open pores can still be stained. This may prove academic, as it can be difficult to determine whether your stone has, in fact, been resonated since there are no requirements for manufacturers or fabricators to disclose this information.
Stain removal can be a time-consuming and costly process; whereas sealing is a simple wipe-on wipe-off process. The most difficult part is simply remembering when it is time to re-apply. Here is an example.
In this case, it was the body oils of people leaning against the stain that created these dramatic black stains. It took 7 days of repeated treatments to remove and restore a clean appearance before the stone could be resealed. Your MARBLELIFE® stone care specialist can help determine whether your stone would benefit from sealing and recommend a resealing schedule to help keep it protected.
We offer MARBLELIFE Stone Sealer for marble and large surface areas such as floors and MARBLELIFE Granite Countertop Sealer in an easy-to-use spray pump. Call us today to set up a complimentary consultation. You can find our stone care products and sealers at www.MARBLELIFEPRODUCTS.com.
And remember that when in doubt, err on the side of sealing — it's less expensive that stain removal and less involved than a complete restoration.