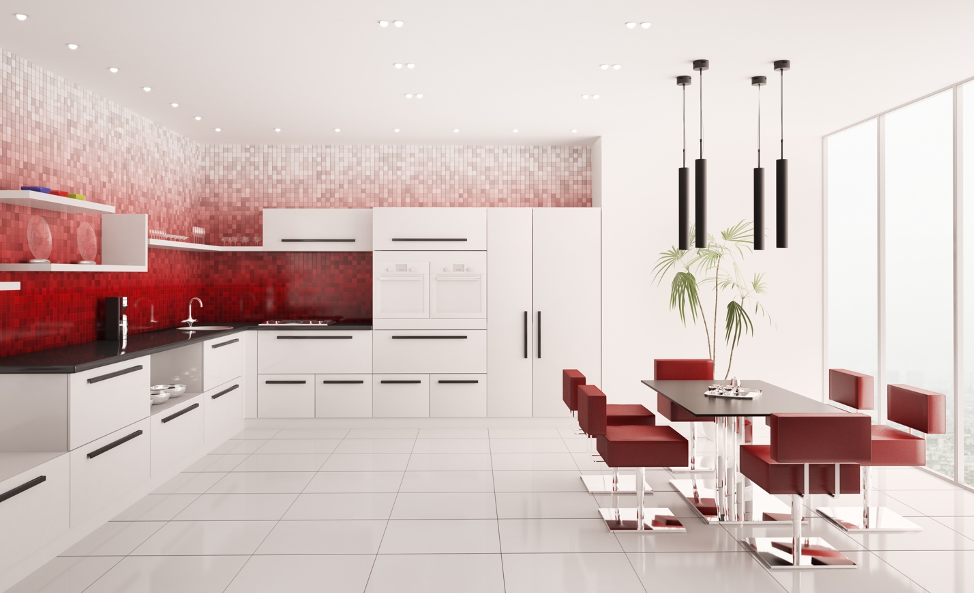 Seeing red isn't always a bad thing, especially when it comes to interior design. The ultimate color power play, red has the capacity to transform any space because it draws instant attention to wherever it's used, creating drama and a big visual impact. We thought it would be appropriate for the holiday that celebrates passion and love to give a shout out to the romantic, remarkable, and riveting red.
The Kind of Fire You Want in Your Kitchen
Just look at what red does in this kitchen design that might otherwise be little more than a ho-hum blend of white surfaces. Oversized white ceramic tile and flat–front European style cabinetry might otherwise fade into mediocrity were it not for the bold punches of red in the upholstery and backsplash.
The chunky red seating reinforces the geometry of this contemporary space. Modern design means minimal ornamentation, so strong lines and good scale really count here. Four sculptural pendants offer mood lighting for dining while making a statement all their own as their bold vertical lines echo the oversize bar pulls on the sleek, spare cabinetry.
However, the centerpiece of this kitchen design is, without a doubt, the fiery ombre-style red mosaic, which takes up the entire height of the wall above the counter. The gradient colors fade the higher they go, eventually blending seamlessly into the ceiling. The incorporation of open shelving helps give this already stunning focal point even greater impact.
A Red Reimagining, Courtesy of MARBLELIFE
If you have a kitchen design with simple white cabinets and porcelain tile in either a square or subway format, you can use our exciting MARBLELIFE® COLORSeal™ technology to change your boring white sanded grout to red for a dramatic and dynamic new look.
Just remember that when making a strong color statement like this, you have to balance color evenly across the room as shown above. Additionally, when designing with red, it can be helpful to keep the rest of the color scheme restrained. Using too many additional hues could result in a carnival effect. In this case, a simple palette of red, white and black work perfectly together. So, if you change your grout to red, consider adding some red accents in your seating, lighting or accessories to create your own version of this high-end style.
And if you're worried that your romance with red might come to an end one day — no worries! We can change your sanded grout right back to its original color or to an entirely different color altogether. With MARBLELIFE COLORSeal, you'll have over 270 options to choose from. And, as an added bonus, we'll properly seal your grout after treatment. That means it will be easier to clean, disinfect, and maintain — so it will look better and perform better for you. No more stained grout frustrations you can't get clean, but rather an easy to clean beautiful accent.
If you have a concrete floor, we can transform it with our proprietary MARBLELIFE Marblizing® coatings or our EnduraCrete® concrete staining. Imagine the beauty of a glossy red marblized or stained concrete floor paired with stainless appliances or cabinetry and a black onyx countertop. MARBLELIFE is more than your expert repair and restoration service — we're your ultimate design resource to transform your existing tile and concrete surfaces. Call your local MARBLELIFE professional today, and one of our knowledgeable consultants will help you design and create the floor of your dreams.