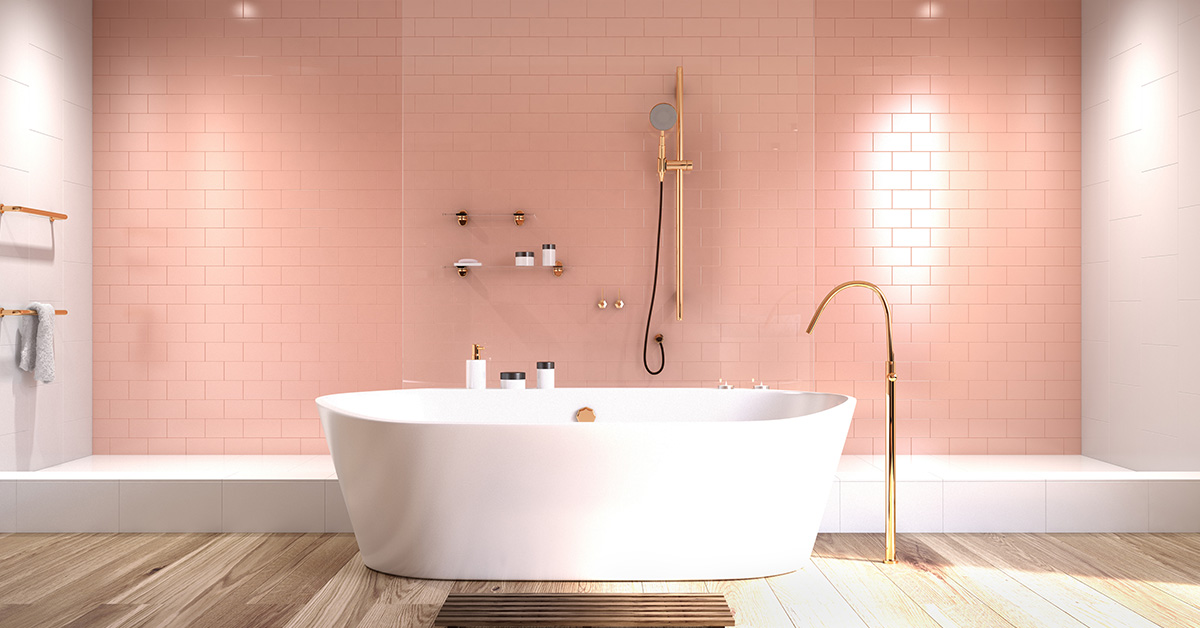 Pink is all grown up in this modern and spacious master bath featuring a sculptural, freestanding tub. And there's nothing prim and prissy about it at all. A statement wall of sophisticated pink tile creates a comfortable ambiance — and a very flattering, warm glow that's a nice touch in any room with mirrors.
This Valentine's Day, we invite you to rethink pink — one of the consummate romantic colors. It was popular in the atomic 1950s along with turquoise, yellow and other bright optimistic hues of that era. But today's pink is a little more mature, subtle and refined. And it's particularly beautiful paired with natural elements and textures, like the warm wood tones of the floor pictured above. Innocent yet sophisticated, pink is a versatile color with a number of design applications.
You have many beautiful pink variants to choose from, including soft peachy hues to rose, deeper plum and fuchsia tones. Pink and gray is a smart, sophisticated color combination. Create drama by pairing pink with graphic black and white. And if you're a bold colorista, consider peachy coral with turquoise or lime green. There's a pink for every color personality.
Envelop your room with pink walls to create your own rose-colored glasses to see the world through. Or just use it as a fun accent color in pillows, throw rugs, lampshades, artwork, draperies or bedding. In big or small doses, pink makes a stunning style statement. Even the subtle influence of a pale blush-pink ceiling can change the entire mood of a space.
MARBLELIFE® can introduce pink in a way that you probably didn't realize is possible. With our proprietary COLORSeal technology, we can transform the look of your tile by changing the color of your existing grout to pink or any rosy tone of your choice. See what soft pink grout can do to the look of a simple powder bath.
With COLORSeal, you can have a completely new look without the time, mess and expense of a costly renovation. Create a romantic master bath with pink accents.
Even if your grout is showing its age and has years of dirt and grime, we can turn back the hands of time with a rejuvenating treatment so it looks like new again. Better yet, your COLORSeal grout will resist future staining to look great longer — and your ongoing cleaning and maintenance will be easier.
But what if pink turns out to be just a passing fancy? That's no problem at all because we can recolor it again to whatever new hue sets your heart aflutter. So this is one renovation with no long-term commitment.
MARBLELIFE® continues to offer in-home cleaning, restoration and COLORSeal tile makeovers during the pandemic. And our crews have COVID protocols in place for enhanced safety. Read more about them here. Call your local MARBLELIFE® pro to discuss all your tile- and stone-care needs today.
We think you'll be tickled pink with our results!