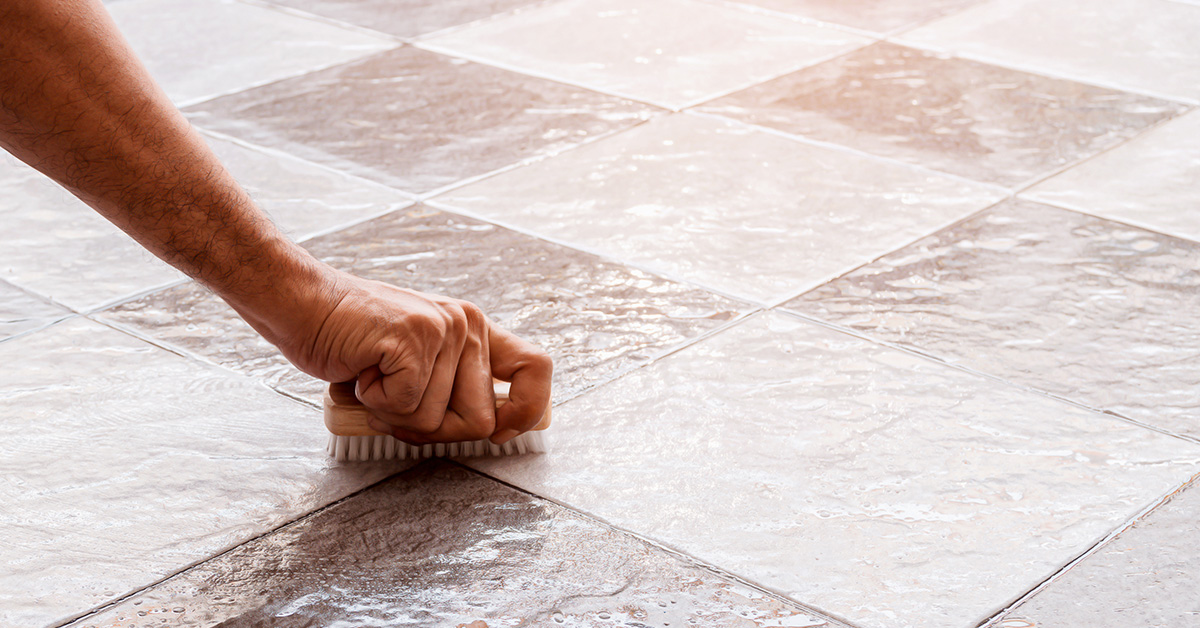 Some tile may be relatively impervious in terms of water absorption, but that doesn't mean it can't be damaged, broken or sullied with unsightly mold or soap scum — remember that your grout is still highly vulnerable to dirt and staining. When it comes to taking care of your tile surfaces, it's really all about getting back to basics. If you've properly sealed your grout, then cleaning is relatively easy. If you haven't, you'll need the right products and either a little know how or knowing the right people to get it done.
Fortunately, you really only have to make one decision when it comes to caring for your tile and grout, and that's to use MARBLELIFE® products. Our proprietary cleaners are specially formulated based on decades of service experience in our own private labs to provide a safe and highly effective clean — they're safe to use on porcelain, ceramic, Mexican tile, marble, granite, and concrete as well as sanded and non-sanded grout. Using the wrong product, especially one containing acidic ingredients, can cause permanent damage that may require restoration instead of simple cleaning to correct. If your grout is not easy to clean, odds are you are already a victim of acid cleaning and would benefit from a re-seal or colorseal application to relieve the stress and frustration associated with grout that will not come clean.
MARBLELIFE TILE & GROUT Cleaner is simple to use and provides excellent results from its very first use. To apply, just spray the product onto grout lines. Then scrub with a soft bristle brush and wipe clean — that's it! You can even use a wallpaper brush or a toothbrush for tight spots. Our cleaner is safe for all tile surfaces and will give a brilliant clean without damaging your grout.
If you have more heavily soiled lines, we recommend our MaxOut Grout Cleaner. Pour MaxOut onto grout joints and again scrub with a soft bristle brush until the suds are dirty. Wipe away the dirty suds with a paper towel or rag and repeat as needed. When you're satisfied with the results, remove any remaining MaxOut Cleaner from the tile and grout with MARBLELIFE TILE & GROUT Cleaner.
MaxOut Cleaner by MARBLELIFE emulsifies grease and dirt on your tile surfaces. It's safe for terracotta, porcelain, ceramic, Saltillo, or stone tile. MARBLELIFE MaxOut is an alkaline solution, unlike many commercial cleaners on the market today that contain acidic ingredients. Acids can bleach out your grout's color, destroy and remove its seal, and potentially degrade the material itself (marble, travertine, or terrazzo). MaxOut is hard on dirt, while engineered to be gentle on grout.
When tackling a grout-cleaning project, you'll want to have certain supplies on hand, such as a soft bristle brush and a toothbrush for tight corners. Even an old electric one can work — just don't reuse after — yuck! Also, have plenty of rags around, a mop and paper towels. Some upbeat music wouldn't hurt either — who says cleaning tile can't be fun! Once you've got your tile looking great, now is the time to seal it for long-lasting protection if you haven't already.
If you want to pass the buck on this cleaning project altogether, just give your local MARBLELIFE professional a call. We'll be happy to clean, seal, and restore your tile surfaces. Whether the job is large or small, our goal is to make your surfaces look brand new and leave you 100% satisfied. Call us today for a free consultation from one of our friendly and knowledgeable stone care specialists.