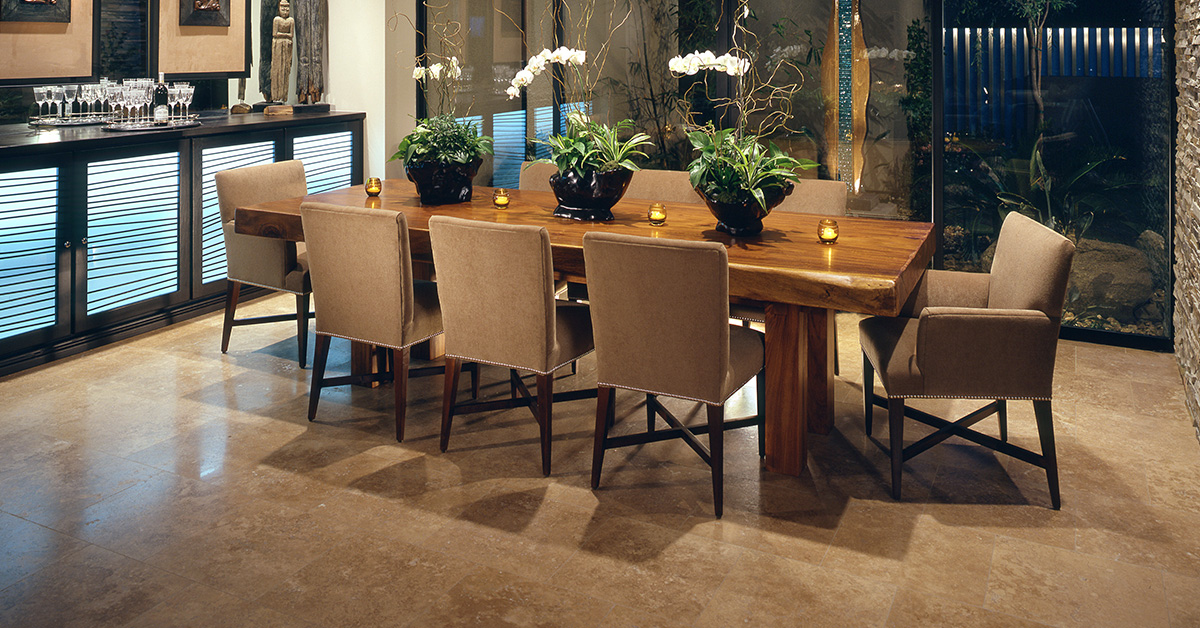 It's a new year — time to turn over a new leaf when it comes to caring for your tile and stone surfaces. Here are 10 resolutions you should make to help keep your floors and counters looking their very best in 2021.
1. Avoid harmful cleaners. Even many "all-natural" products contain harmful acidic ingredients like citrus or vinegar. These substances can cause permanent etching and can degrade grout over time. Trust MARBLELIFE® cleaners to safely cleanse your surfaces. Acids are incompatible with many seal chemistries, resulting in unprotected easy to stain, hard to clean problems with long term use. We can fix this. If you have stained grout, this is the likely cause.
2. Protect unsealed floors and counters. Many people don't realize that granite countertops need sealing — and regular resealing depending on their use. Granite can stain just like marble, but a good sealer can help prevent damage and discoloration. If you are cleaning with a lemon-fresh, citrus-scented, vinegar-infused or clean-and-shine product, you may be encountering problems.
3. Use a high-quality doormat. A good doormat prevents a lot of tracked-in dirt and grime. Avoid "décor" mats. Instead, opt for high-quality spaghetti mats that really trap debris. Remember to shake out mats regularly and put them at every entrance of your home. Outdoor spaghetti mats should be backless, and indoor mats should be backed. The right mat will reduce floor wear and dulling, extending the life of your finish and the frequency with which you will need to have MARBLELIFE® repolish or reglaze your surface. Restoration is still less expensive than replacement, but avoiding the need to restore is even better.
4. Never use abrasive cleaners and brushes. When you use the right cleaners, there's no temptation to reach for a wire brush or anything abrasive. Steel wool and scouring pads can cause permanent damage by creating micro-scratches or rust stains. MARBLELIFE® cleaners are gentle and nonabrasive, so they won't harm your surfaces. If you have to work this hard, you may have a problem that requires professional attention. The good news is that you will LOVE the result. It will be fixed — and clean.
5. Clean up spills fast. Getting to spills right away minimizes staining. The longer you let a spill sit, the harder it can be to remove. Blot spills and remove residue with a damp wet cloth. Keep paper towels and bar cloths handy so you're ready for quick action. A good seal provides you more time to clean up a spill before it stains, but let a spill linger and, eventually, it will work its way through every seal. Blot versus wipe.
6. Change out mop water frequently. Mopping with dirty water is counterproductive. All you're doing is spreading the dirt around your floors and into the pores of stone and grout. Empty and clean up the bucket when the water is visibly dirty, and always finish your cleaning by damp mopping with crystal clear water. Not sure when to change the water? Glue a quarter to the bottom of your mop bucket. When you can no longer see it — it's time.
7. Stop using "all-surface" cleaners. MARBLELIFE's proprietary cleaners are formulated in our own labs based on our extensive knowledge and years of service experience fixing floors and counter problems. We have seen it all. As the only service provider that manufactures cleaners, we are the only one that has the service experience necessary to understand the long-term negative effects of many "cleaner features." Not every feature is a benefit — some create significant problems over time that require a company such as MARBLELIFE to fix. Our stone and tile care products deliver safe, effective results to fine homes and businesses across the United States. Our clients understand why our products work rather than create more problems with their continued use.
8. Avoid "clean-and-shine" products too. These contain waxes and oils that give a glossy appearance, but don't actually clean. Anytime you deposit anything onto a surface, by definition, you're not cleaning it. Cleaning removes dirt, grime and impurities — and leaves nothing behind but a sparkling clean surface. MARBLELIFE's cleaners will remove those oils so that the natural shine of the surface can be seen and enjoyed.
9. Don't attempt DIY repairs. It's easy to make things worse when attempting to fix a cracked, chipped or etched floor. Trust restorations like these to MARBLELIFE® professionals, who can expertly affect repairs so it's hard to see that there was ever even a problem.
10. Trust MARBLELIFE for all your stone- and tile-care needs. Don't rely on a jack of all trades with your fine tile and stone surfaces. Trust MARBLELIFE® pros who have years of specialized experience caring for marble, tile, granite, travertine and other natural stone surfaces. We have been doing this for over 30 years. We work on "understanding" versus recipes which means we tailor what is needed to your specific surface and situation.
From the MARBLELIFE® family to yours, we wish you a happy, healthy and prosperous new year!