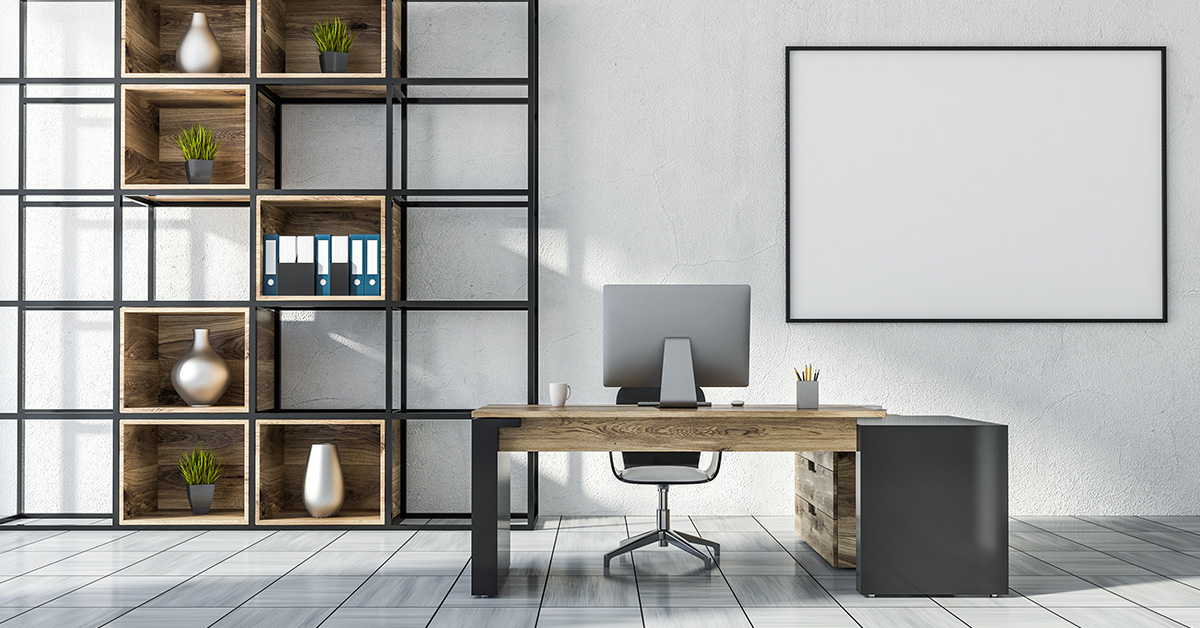 Happy New Year! A new year brings a fresh start. And we thought this would be a great time to offer a few tips to get your home organized from the ground up in 2021.
Maximize your floor space by thinking vertically. Whenever you can, utilize vertical storage solutions like the cube display pictured above. You can mount simple shelves or a workstation on your walls to free up more space. Even a row of basic bookcases will do the trick.
Safety tip: Always anchor furniture to walls to prevent tip-over accidents.
Use open storage. Keeping everything in view helps you locate items quickly and encourages you to stay tidy. It can be tempting to shove things in drawers or behind doors, but when you can easily see the contents of your storage unit, you'll be more likely to put things away neatly. Open storage with cubbies and bins is also a terrific idea for kid's rooms.
Use a whiteboard to cut down on paper clutter. If you're the type of person whose notes have notes — or whose computer monitor is covered in yellow sticky notes — you might benefit from incorporating a whiteboard into your organizational arsenal. Keep track of your to-do's, might-do's, honey-do's and any other do's you want to get done. Use different color markers to differentiate work and family tasks or assign priorities. The best part? Wiping all of those tasks away when they're completed.
Keep horizontal surfaces clear. Use vertical storage to keep desktops, countertops and tables clear and ready for work. Avoid piles of papers, stacks of books and mountains of mail by having dedicated locations for these items. A clear work surface is conducive to an uncluttered — and productive — mind. At the end of each day, take five minutes to clear off your work surface and see how much better you feel in the morning.
Divide and conquer. Use divided storage, like the unit pictured above, to keep like items together. Keep bills and budgeting tools in one cubby, magazines in another, and craft supplies in another. Modular units are flexible and allow you to expand as needed simply by adding more modules.
A clean and clear floor. With all that floorspace clear and visible, make sure your floors are sparkling clean. MARBLELIFE® can bring dingy tile and grout back to life. And why not have a little makeover to complement your newly organized space? Today, technology allows us to change grout colors instantly without dust or replacement, all in a matter of hours. Change white-to-black, black-to-white or accent your room to match your curtains or carpet. We can take any grout color and transform it into a new hue. MARBLELIFE® COLORSeal can give your floor an entirely different attitude. And after we finish, it will have a high-quality seal to make it resistant to future stains. No more of that dingy look, just a clean and cleanable eye-popping WOW!
Call your local MARBLELIFE® pro today to set up your free in-home consultation. We can take your tile and stone surfaces from so-so to sensational in no time at all.