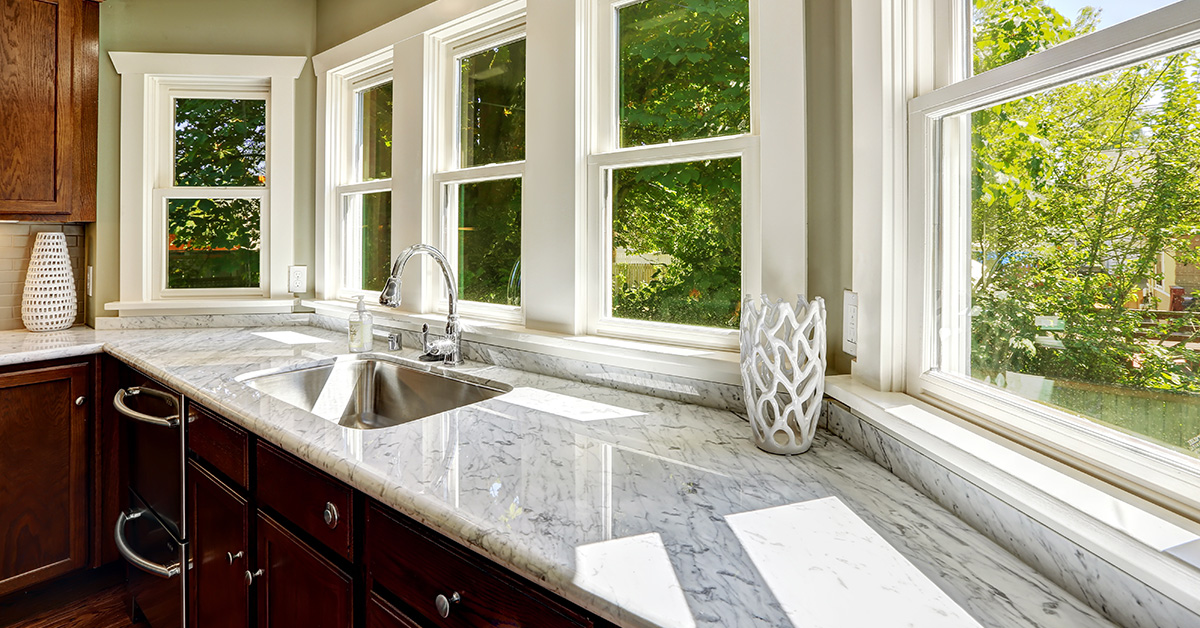 You already trust MARBLELIFE® for expert tile and stone maintenance. But did you know we're also a go-to home renovation resource for reimagining the surfaces in your home or commercial property? We offer a number of proprietary services that deliver big on style and won't break the bank.
Concrete Staining and Polishing. Color is one of the most powerful design tools at any property owner's disposal. Color can influence your mood, convey your personal style and even make a room appear brighter and larger. We can use color to transform a dull, boring concrete floor into a thing of beauty.
MARBLELIFE® can densify, seal, polish, grind, color and completely reimagine concrete surfaces. Our talented craftsmen can turn your vision into reality with EnduraCrete concrete stains. Give your floor depth, pattern and color in in any finish you choose whether it's matte, satin or ultra-high gloss. Go crazy with colorful swirls or the look of leather — you're only limited by your imagination.
We'll transform your garage, conference room and even countertops. Concrete is prized as a versatile, easy-to-maintain flooring that can promote healthier indoor air quality by eliminating chemical and allergen releases from carpet and underlayment. To achieve a polished appearance, we first apply a densifying agent to reinforce the surface, enabling concrete to be polished to a satin or even a mirror finish. Once sealed, this treatment dramatically enhances the surface's water and oil resistance. Marry with a colored stain, and your concrete's character comes out in swirls of color and one-of-a-kind beauty.
Gorgeous Grout. MARBLELIFE's COLORSeal technology can restore your grout to its original clean appearance or update your look with a new color contrasting or blending with your tile to complement your décor. If your once bright-white grout is now gray and dingy, we can restore it. And if you don't want white, we offer 270 color options for you to choose from.
Take a basic, bland tile and COLORSeal your grout with pink, blue, green, grey, almond or any hue that suits your style. Match the color of your stone-look porcelain for a more seamless appearance or pick a high contrast color to amp up the drama. When our treatment is finished, your grout will have a durable seal that resists future staining. And if you change your mind — no worries! We can COLORSeal it right back to your original color.
Concrete Overlays. EnduraCrete decorative overlays can turn an unsightly, dull concrete walkway or patio into a beautiful hardscape. MARBLELIFE® can transform virtually any concrete surface and emulate brick, flagstone or a variety of modern textures including brushed concrete to enhance outdoor spaces without the cost and mess of demolition and replacement.
MARBLELIFE® overlays also provide enhanced skid resistance. This makes them great for pool decks, patios, and high-traffic areas around water or irrigation systems. They can withstand harsh elements, including salt, chemicals and UV exposure, making your surface more beautiful and easier to maintain. Our experienced craftsmen will design a custom surface treatment that's both attractive and highly functional. Our designs can incorporate highlights, graphic art and even corporate logos.
Make your home more beautiful with MARBLELIFE®, inside and out! Contact us today for a complimentary design consultation.