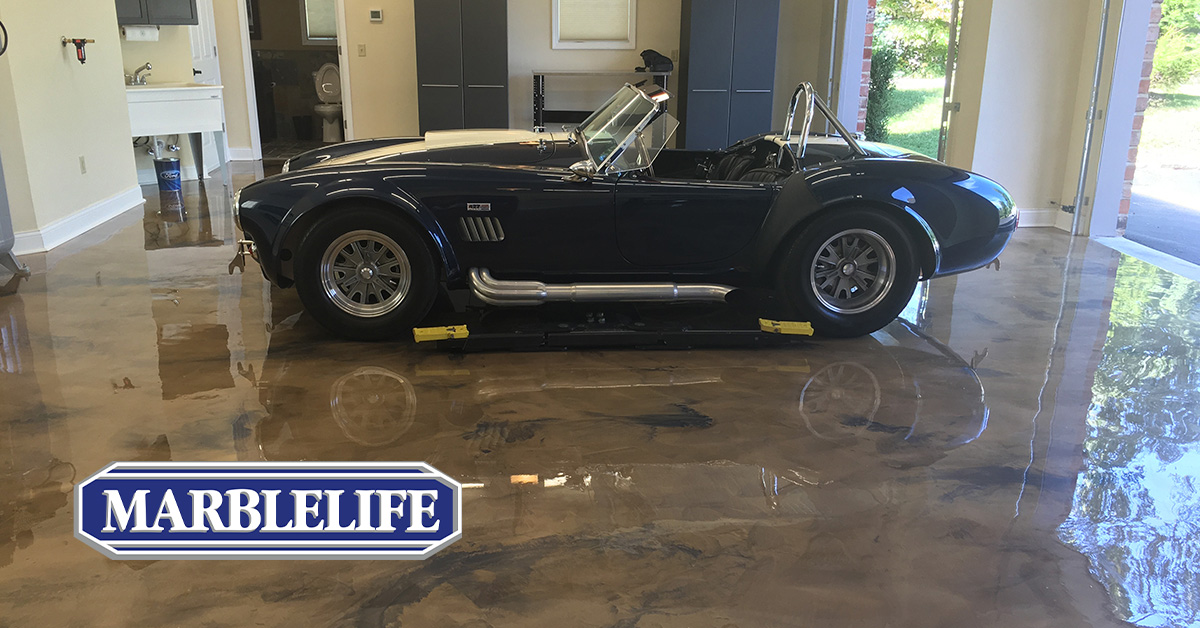 Did you know that you might already have an extra room in your house that you could repurpose into a music room, hangout or creative project space?
What if we told you that room was your garage?
"But wait," you object. "My old concrete garage floor is dull and dirty. I'd never want to spend time in there."
MARBLELIFE has the solution to this all-too-common dilemma. We can transform that dirty and dusty garage into a pristine, polished showcase for your ride — or that extra hangout space you really need right now. And we have coatings to suit every taste and style.
EnduraChip Coatings
If you like the look of terrazzo, we think you'll love EnduraChip. This epoxy flooring is durable, easy to clean and protects against heavy foot and vehicle traffic — while still giving you a customizable, low-maintenance floor. And it can hide unsightly cracks, scratches, holes and pock marks.
Multiple design options are available for every taste and style. And you can select a slip-resistant coating or a high-build epoxy for a smooth finish. EnduraChip is a functional and fabulous option that can hold up to heavy traffic and enhance the value of your home.
EnduraCrete® Concrete Staining
With MARBLELIFE EnduraCrete, your colors can swirl and flow — or even emulate a rich, leather-like finish. We can match and complement the colors in your home to create a look ranging from subtly sophisticated to showstopping.
We give concrete the appearance of high-end marble without marble's acid sensitivity for a beautiful, useable, and durable surface. Our experienced MARBLELIFE expert craftsmen can emulate almost any look you can imagine.
Marblized™ Metallic Finishes
Metallic resin provides our proprietary Marblized finish with amazing depth and beauty. Our metallics can be added to a clear coating resin binder to create a variety of surface appearances.
From understated grey to electric blue, create whatever look and mood suits you with this proprietary treatment. And when you're done, your finish will not only be gorgeous, but also durable and easy to maintain. Check out some of the amazing looks we've created and view our color chart here.
Transform Your Garage with MARBLELIFE
Whatever your style preference, MARBLELIFE can turn your ho-hum garage from grungy to great — and help transform it from a pass-through afterthought to the multifunctional space you could really use right now.
Call your local MARBLELIFE specialist today for a free in-home estimate. Read about our COVID-19 safety protocols here . Our friendly and knowledgeable technicians will evaluate your existing floor and give you a fast and free quote for your garage transformation.
Whether you need a convenient place for your garage band to practice, a craft or project space, a man cave, meditation zone or exercise room, the pros at MARBLELIFE can help transform your garage dream into a reality.