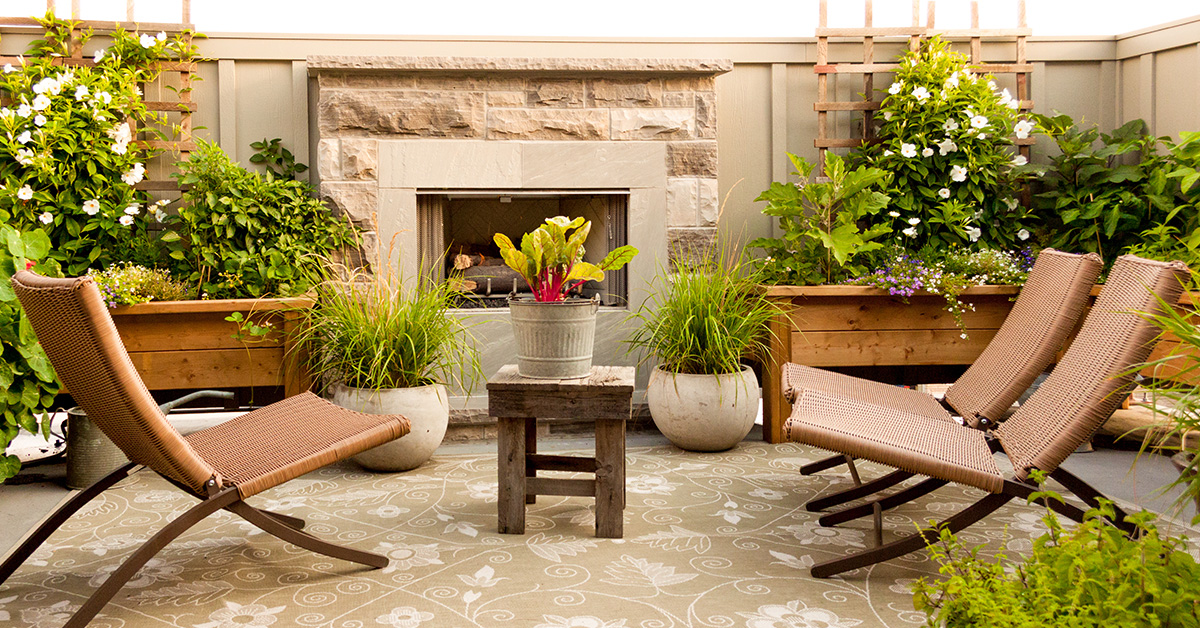 We're all spending more time at home these days, and summer travel plans are now shaky at best. It's likely that many families will be honing their staycation skills over the next couple of months, which means turning their homes and outdoor spaces into their own private getaways. In our third "Shelter to Sanctuary" post, we're offering up some inexpensive design and entertaining tips you can use right in your own backyard.
Whether you're sunning yourself on the deck, sitting poolside or shooting hoops in the driveway, you'll want your outdoor spaces looking their very best. Luckily, there are many things that you can do to give your patio and yard a five-star treatment without breaking the bank.
Freshen flowerbeds. It's surprising how a little mulch and some inexpensive annuals can revitalize your yard. Design color themes to tie together your outdoor décor whether you like cool blues and purples, or warm reds, yellows and corals. Professionally-designed gardens use color to create drama, and so can you.
Add accessories. While replacing all your patio furniture this year might be unrealistic, just mixing in a few inexpensive accessories in your outdoor spaces can really pull everything together. Cultivate a festive mood with colorful ceramic planters, weather-resistant outdoor pillows, a bird bath to attract your winged friends and inexpensive (non-breakable) dinnerware and flatware to enjoy your meals alfresco.
Light up the night. You don't even need an outlet these days to create a little sparkle after the sun goes down. Most big box stores offer reasonably priced solar landscaping lights to create a beautiful backyard glow. You can uplight taller plants for drama or scatter flickering LED candles on your dining table and conversation areas. For a more whimsical touch, try color-changing lights to suit your every mood. Many even come with a remote, allowing you to change up the ambiance without even getting out of your deck chair.
Crank up the tunes. With Bluetooth technology, you don't need to install expensive wired speakers to enjoy your music outside. Broadcast your favorite playlist right from your smartphone to one of the many reasonably-priced weather-resistant Bluetooth speakers on the market. With options ranging from small balcony-sized units to powerfully amplified stereo pairs, there's a speaker for virtually every size outdoor space and budget.
Pretty up the patio. MARBLELIFE can clean and restore your patio and pool surround whether your surface is tile, concrete, travertine or another type of natural stone. Our technicians will expertly clean your surfaces of grime, mold and mildew. And if you have cracks or other damage, we also provide full restoration services that can leave your patio looking brand new. Our professional sealers allow your newly cleaned and restored surfaces to look great longer. We continue to offer in-home service during the crisis with enhanced safely protocols that you can read about here: https://marblelife.com/pages/covid-19/response.
With well-maintained and appointed outdoor spaces, you can enjoy some quality time with your family this summer while staying safe and saving money. Call MARBLELIFE for a complimentary consultation today.