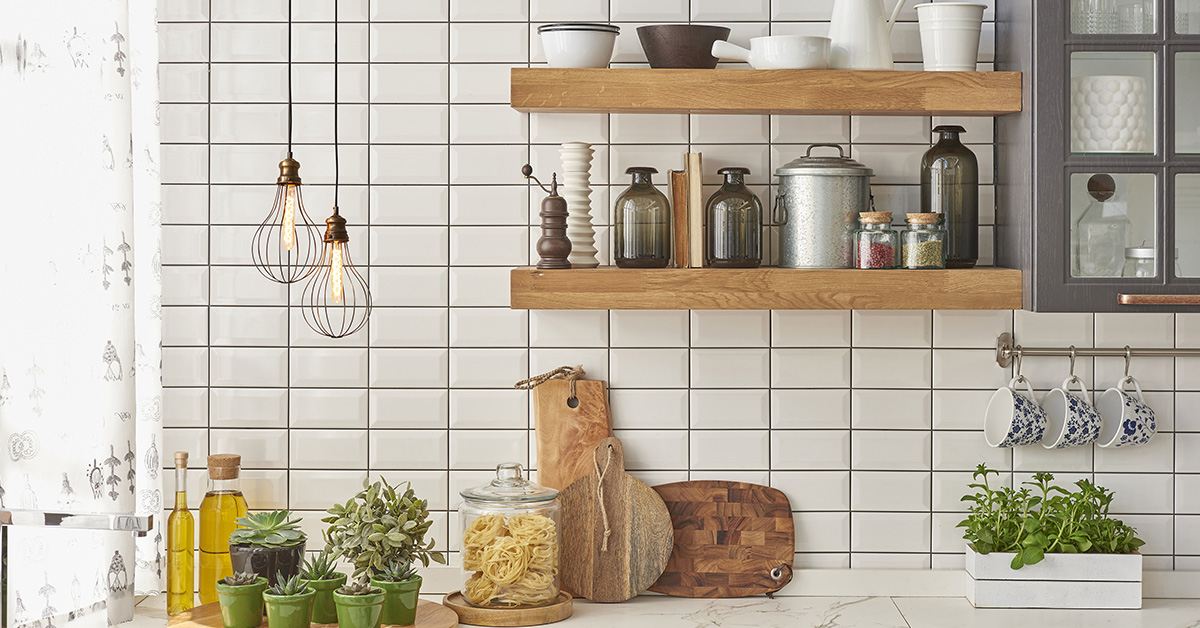 Here's a simple, yet elegant, backsplash idea that would be just perfect for any kitchen with a smaller footprint. A basic white subway tile, laid straight, feels modern and classic at the same time. It shows that you don't need to blow your design budget on super-pricey mosaic, glass, metal, or fancy imported tile to create a stunning look. Contrasting grey grout punctuates the geometry. You could either use a simple flat subway tile or dimensional tile with beveled edges to add even more depth and interest.
If you have white subway tile and white grout, MARBLELIFE COLORSEAL can actually change the color of your grout from white to gray to make it look more like the backsplash in this picture without removal or mess, and do so in less than 8 hours so it's ready for dinner. And after we're done, your grout will be well-sealed and resistant to further staining.
Open natural wood shelving and glass-panel cabinet doors feel light and airy. These installations also create optical illusions for smaller kitchens by appearing to visually expand the space. The only catch — you need to keep your items tidy and use attractive containers since they'll be on display for all to see.
Warm painted gray cabinets with simple brass pulls echo the gray marble and warm wood tones in this kitchen. The simple lines are picked up by the modern chrome faucet. A wood pizza peel can double as a unique plant stand and serve as a home for a collection of succulents in cheerful, green ceramic pots. A billowy curtain frames the window and softens the light.
Look at how the dainty blue-and-white china teacups are cleverly and beautifully displayed on a towel bar with hooks. Even cutting boards add an organic sculptural beauty as they lean against the backsplash. Notice how even simple oil and spice containers and a cookie jar create interesting eclectic arrangements, composed almost as a still life. Industrial-style pendants with vintage-style Edison bulbs are the finishing touch.
A classic white marble countertop works beautifully with the other traditional design elements. It's important to note that marble can be particularly vulnerable to acid and other staining. That's why it's so important to follow the lead in this picture and use trivets, cutting boards, and other protective services to keep your marble looking pristine.
It's also imperative with marble surfaces to regularly seal them well and use appropriate cleaning products. Many natural solutions or commercially available products can contain ingredients like lemon and vinegar that can cause serious problems. You need to also be mindful to clean up spills and spatters quickly before they turn into more stubborn stains, or worse, service-requiring etches.
MARBLELIFE® has the experience and the right products to properly seal and maintain your fine marble and tile. And should you have an unfortunate situation where you've incurred serious damage, our experts can restore your surfaces to a like-new condition. Call your local MARBLELIFE professional today for a free consultation for all your tile and stone care needs.