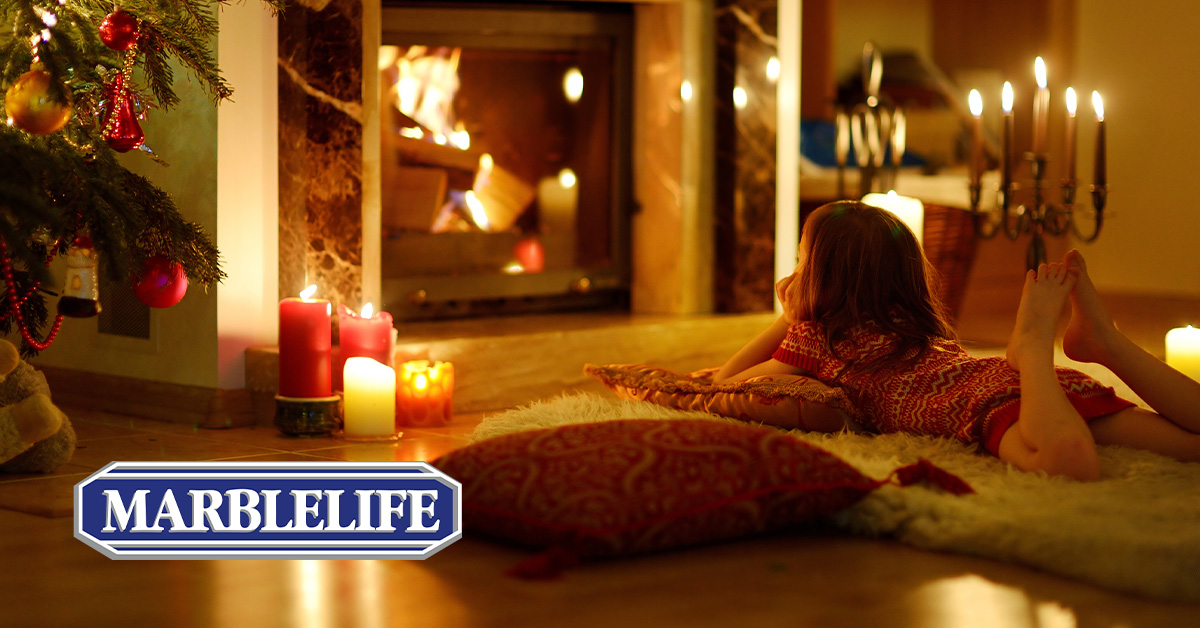 Your floors and fireplace won't get more use and attention any other time of year than during the holidays. You and your kids will lie on the floor watching old Christmas classics on TV, and you'll sit on the floor, gathered around the tree, while opening presents. You'll hang stockings by the fire, place a wreath over the mantle, and maybe even roast some chestnuts. It's pretty clear that some of the best holiday moments happen on the floor and by the fireplace.
With all that activity, and friends and family visiting to boot, you'll want those floors and that fireplace looking their very best. Whether your floor is natural stone, tile, or porcelain plank, MARBLELIFE® can bring it back to life. Even if you have stained grout or damage, our MARBLELIFE® professionals can get your floor looking brand new and guest-ready again in no time. We can expertly clean, repair, restore, and seal your surfaces— and they'll be better than new because they'll be more resistant to the dirt and damage that comes with everyday use.
If your fireplace has a natural stone or tile hearth and surround, we can also restore it to better-than-new condition. We can even change the entire look of your fireplace by changing your grout color. Whether you want to blend it with your tile or stone, or accent with white, charcoal, slate blue or terra cotta — with MARBLELIFE®, you can completely reimagine this important focal point for your holiday celebration.
Once your fireplace is looking great again, it's easy to give it a gorgeous holiday look with simple decorations that won't break the bank. Safety, of course, should be a priority — especially when children are around. If using candles, always supervise, and avoid anything heavy or breakable that would be tempting for kids to pull down from the mantel. Protect your surfaces from wax drips, pine tree sap or any other substances that might leave a stain, and be sure to secure any flammable items (e.g. pinecones, branches) so they can't fall into an open flame.
Here are three easy and inexpensive mantel decoration ideas just in time for the big day:
Natural Beauty: Gather up natural items from your yard — depending on where you live, these can include pine sprigs, pinecones, magnolia leaves, and even bare twigs. Pair with a few simple silver and gold ornaments and a string of twinkle lights (you can use battery-operated lights if you don't have an outlet nearby), and watch the magic happen.
Candy Cane Delight: Red and white take center stage in this theme. Find clear containers in various sizes and fill them with peppermint candies and candy canes small and large. You can buy these in bulk very inexpensively at discount and big box stores. Accent with a wired red satin ribbon and white lights. Scrumptious!
Winter Wonderland: Gather any set of mismatched holiday items you have around the house, or that you can purchase inexpensively at thrift stores, such as little trees, ornaments, candleholders and reindeer. Then paint them white, add a dusting of silver glitter for some sparkle and display them on a protective surface. You'll have your very own White Christmas in no time.
We hope you enjoy these tips and your re-imagined holiday fireplace, with a little help from MARBLELIFE®.

Call MARBLELIFE at (888) 524-3372 or visit us online to secure your FREE ESTIMATE at www.MARBLELIFE.com or to www.MARBLELIFEPRODUCTS.com to secure the care products appropriate to your surface, and your desire for an easy effective cleaning solution.